Jason Matthew Lee was born in Chicago (U.S.) in 1989, lives and works in New York.
The works of Lee combine painting with computer graphics. To interpret them carefully requires paying attention to their many layers. It is always possible to recognize a background level that consists of a gestural sign, made by the artist with spray paint. A digitally constructed image is printed over the paint, generally blending two elements: photographic images and graphic layout. The former are "appropriated" from a reservoir that ranges from the visual impressions of early data processing to cyberpunk imagery, processed by software for digital manipulation. The latter consists of texts, grids, filters, logos, etc. Approaching a work by Lee, the viewer has to engage in a dual exercise of perception of the image in its unity and in its parts. In other words, to think about the act of seeing as a command of fusion or breakdown of the constituent levels.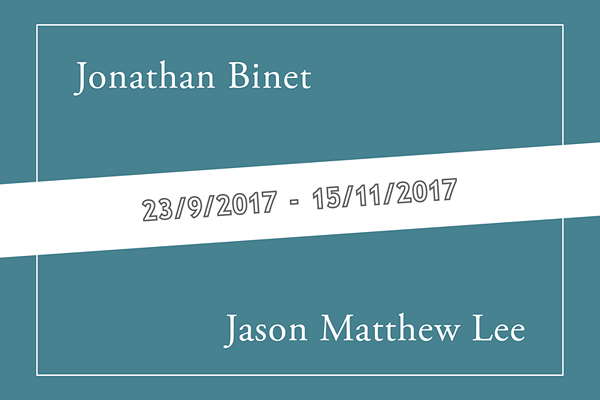 press release
Jason Matthew Lee
23 September 2017 - 15 November 2017

Exhibition is accompanied by a catalogue with critical essays by Michele D'Aurizio.
jason Matthew Lee
has made two groups of works for the exhibition at Galleria Mazzoli. The ones in a larger format represent stratifications of lines: spray-painted doodles, photographs of tangles of electrical wires, orthogonal grids and circumference patterns. The linear nature of all these elements is an echo of their production processes (digital printing, computer graphics, etc.). They replicate and incorporate the diagrammatic nature of computer thinking, the property through which the computer embodies all the principles of linear thought, just as it ignores any command not formulated in keeping with the rules of linearity. If, however, we notice that many of these lines are circular, closed or knotted to themselves, then these works can be interpreted as suggestions of reflexive commands, codes that write themselves, intelligent machines. The smaller works blend images and codes of computer viruses with images of biological viruses. They are nocturnal, spectral works that point to the immanence of technology in human civilization.
---
---
exhibition view